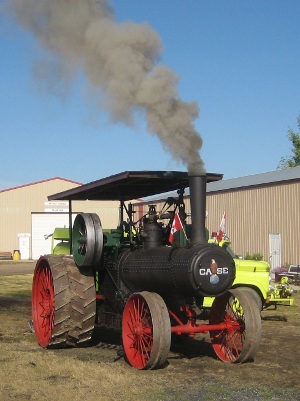 The Heritage Boiler Association (Alberta) (the HBAA) had its roots many years ago when John Kvill recognized the need for proper training of operators of antique steam powered equipment. The courses available in schools only covered the operation of modern boilers which did not adequately prepare people to operate the older hand-fired boilers such as those on antique steam tractors. John developed his own course which many people took but there was still a need to have a fully approved course and certification for older equipment.
In 2008, a number of owner/operators and museums with heritage boilers met to discuss the interest in producing a standardized training manual. The feeling was overwhelmingly positive and the HBAA was formed. Over the next few years a course was developed and it gained the approval of the Alberta Boilers Safety Association (ABSA), which is the regulatory body for steam-powered equipment for the Government of Alberta. ABSA now has a certification specifically for steam-powered tractors and the HBAA course is the first part of the path to obtain that certification.
From that initial group the HBAA has grown to consist of over 80 individual owners, volunteers, and enthusiasts and a number of corporate agricultural museums. These individuals and organizations spend their time restoring, demonstrating, and maintaining Alberta's antique steam powered industrial and agricultural equipment. We at the HBAA feel very strongly that we must maintain this vintage equipment in operating condition. This will ensure our ability to educate and demonstrate the day to day activities of Alberta's pioneers and to continue to play an important role in telling the pioneering story of our province.
HBAA Executive Committee for 2020-2021
| | |
| --- | --- |
| Past President | Randy Kvill |
| President | Dave Rose |
| Treasurer | Brian Henderson |
| Secretary | Steve Macklam |
| Director – Membership | Don Seib |
| Director at Large | Clark McIntyre |
| Director at Large | Paul Prevost |
The executive committee is elected at the AGM held in March each year. All positions are one-year terms.
Major Contributors to the HBAA
| | |
| --- | --- |
| Camrose & District Museum | Camrose |
| Canadian Association of Heritage Railways | Stettler |
| Edmonton Power Museum | Edmonton |
| Fort Edmonton Historical Park | Edmonton |
| Heritage Acres Farm Museum | Pincher Creek |
| Heritage Park Historical Village | Calgary |
| Leduc West Antique Society | Leduc |
| Leslieville Central Antique Model Club | Leslieville |
| Museum of Making | Cochrane |
| Pioneer Acres Plowmen & Threshermen's Club of Alberta | Irricana |
| Reynolds-Alberta Museum | Wetaskiwin |
| South Peace Centennial Museum | Beaverlodge |
| Westlock Antique Tractor & Machinery Club | Westlock |